Jim interviews designer Shaun Sanders to learn the key to building amazing infographics.
– Download podcast: Via iTunes | Save to computer (Right click, Save As)
– Play it below:

Today I speak with Shaun Sanders, a graphic designer specializing in infographics. I met Shaun through our mutual friend Alexis Ohanian, who hired Shaun to produce some awesome infographics for Hipmunk.
Listen to the podcast for the full interview, but here are the highlights, thoughts, and things that we discussed:
Definition of infographics
I view infographics as another option in a marketer's social media arsenal. Surprisingly, there are a lot of people that don't know what the term means when I told them my plans for doing one.
The easiest, old school comparison I make is like the USA Today "Snapshots" that would appear in the newspaper, using cartoon-esque images to represent data. You know, like the quantity of pasta consumed:
Shaun jumps in to give me us a more purist definition: Data visualization
The key: Crossing data visualization with fun, color, and additional elements
"Infographics work because most people will look at them vs sending them a long text article. Because it comes across as fun cartoon, they are more likely to check it out, as well embed it and share it on Facebook."
What the average person might not know about infographics
– How they help website traffic
– How they can build 'link juice' around certain keywords
– Example of How long could you survive chained to a Bunk Bed with a Velociraptor?
What is the advantage of an infographic over a video in an attempt to create something viral?
– Better bang for the buck
– No time constraints like a video
Example: Foursquare had a great one at the end of 2010
Example: Taking a complicated topic and explaining it visually WTF is HTML 5 and why should we care?
The thing that sets Shaun apart
– He can create the infographic
– Does all illustrations
– Most importantly, he does all the research
* As a student, he is used to writing papers with research that can withstand a professor's prying eyes
* Has taken 3 statistics classes such as advanced business statistics
* All of this is fresh in his mind
'I would rather spend the time to make sure everything checks out, than to have 1 tiny error ruin the entire integrity of the graphic'
Case study: How to make an infographic to support the Salary Tutor book launch – a 10 step evolution:
Step 1: Determine Timing
My initial email to Shaun was July 24, and we hoped to have it complete by the week of 8/8.
We ended up working on it a bit longer to make sure we had it perfected.
Step 2: Provide direction
I outlined the following as my goals:
The 3 big picture topics are:
* Current state of the economy
* Getting a raise in your current job
* People that are leaving for new jobs
A few sub-topics that I think are real button-pushers:
* The disparity between men and women's pay
* Does weight and looks have anything to do with income
* Anything social media related (Facebook has youngest workforce; social media skills matter, does HR google you and check your FB page for drunk photos) etc
I set up a Google doc to share links from stories containing a lot of the research to get him on his way
Step 3: Decide on payment
Shaun was at a slight deficit since, well, it WAS about salary negotiation, but he read the book so we were on the same level. Shaun charges an hourly rate, which includes all the hours worked on the three stages (ideation and research, custom illustration, creation). We settled on a budget range we were both comfortable with.
Step 4: Organize the data
– Shaun goes through all the research and tries to distill it down to a one page Word doc
– During this process, he discovers data which must be interesting, but also able to be represented graphically
– What he starts with is never what he ends up with
– Shaun got real excited when he found this much data
Step 5: First pass
Shaun started with a vertical layout, with the primary focus being happiness vs salary level
This is an important step, just getting things down and free flowing the graphics to see how lays out. You can design in your head all you want, but like an author that just starts writing, you need to get in the flow.
Step 6: Getting to the Eureka moment
At some point, Shaun hits the eureka moment when the research is done, the graphics come together, and he just starts moving forward with the direction he knows it will take. In this case, he knew the focus was going to be on the timeline.
He showed it to me in paper form for approval of this primary direction, which I approved.
Shaun tells me one of the most difficult things to deal with in infographics are "outliers" in data, and how he deals with it.
Step 7: The first "final" candidate is sent
– Good news bad news. Jim loves the majority, bottom is great.
– But not the top. Felt it was off topic. How does Shaun handle it?
Step 8: Almost there
– Right topics, 3 out of 4 looks are right
– Jim debates dropping the "weight" stats due to potential user pushback, but Shaun convinces him to stay the course
– We talk over a new way to represent it
Step 9: The Final product
The final product, as seen on SalaryTutor.com/infographic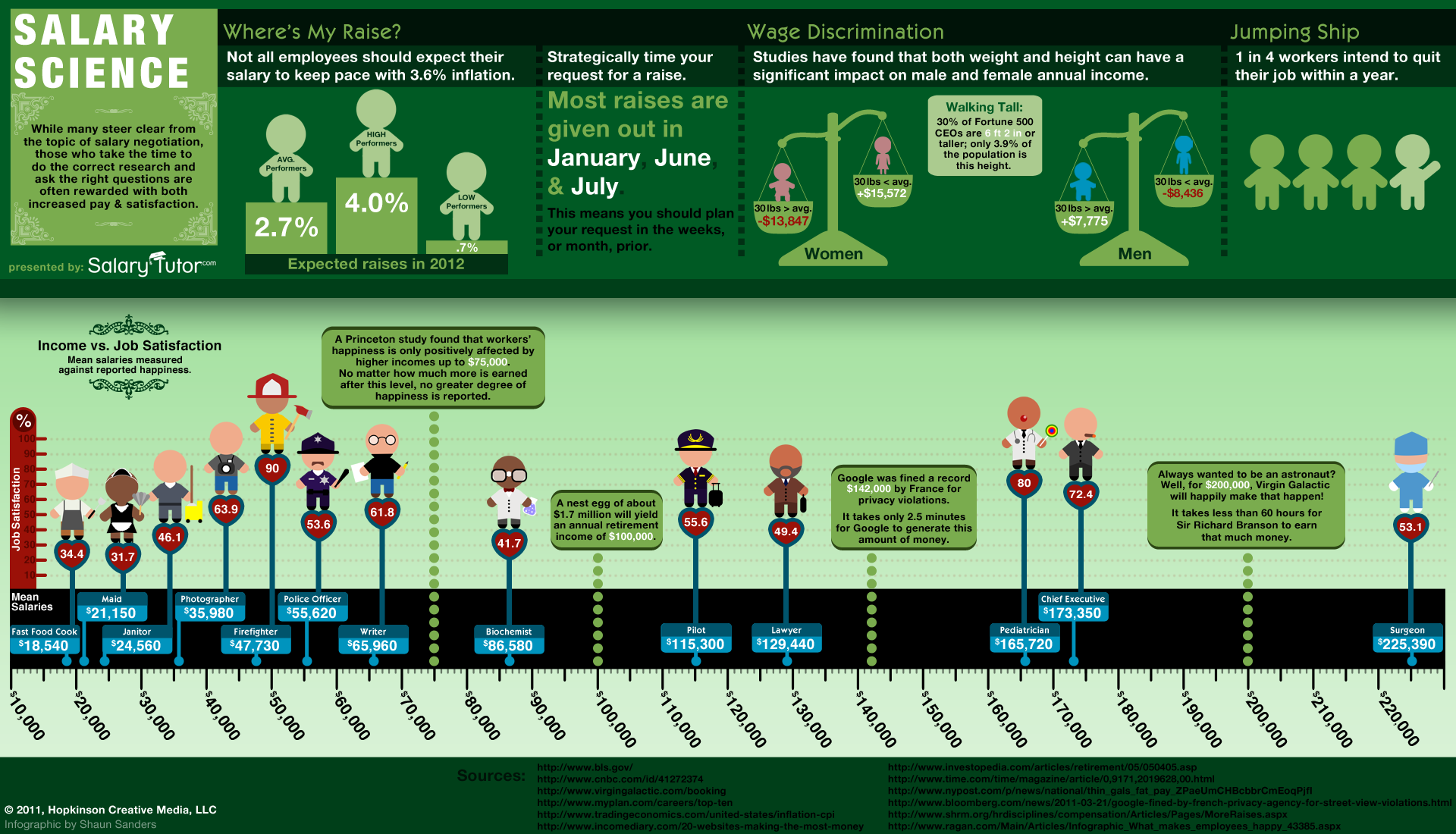 Step 10: Spread the word
We are releasing this post before putting it out into the wild, so unfortunately I can't tell you how it did in advance (See below). Check back and I can give an update in a later podcast. Here is a rough plan of where we plan to 'seed' it:
– Post on my personal Facebook account and Salary Tutor Facebook account
– Tweet to my personal Twitter account and Salary Tutor Twitter account
– Email my "100 super influencers" that have my book
– Submit to coolinfographics.com
– Submit to reddit
– Send to salary sites
– Embed in blog posts
UPDATE! Bonus step: Reap the benefits
– The infographic got posted by Cool Infographics.com
– DailyInfographic picked it up from there
– Lifehacker picked it up from there
– It made it to the Lifehacker frontpage
– Traffic spiked from 50 visitors to 5,500 visitors
– YES, A 10,900% INCREASE
Contact Shaun at his website, ShaunSanders.com